A little bit about us!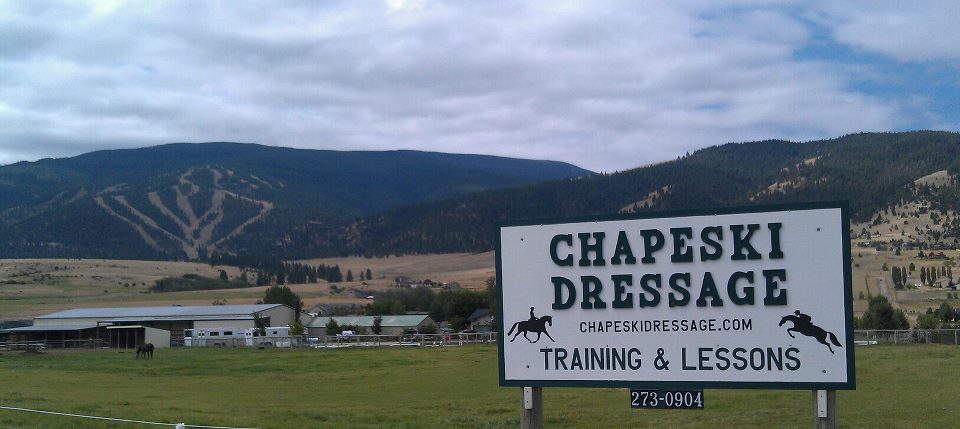 Chapeski Dressage is a full care training and boarding facility located in the beautiful Bitterroot Valley, just south of Lolo, Montana. We are primarily a dressage facility, but general horsemanship (dressage basics and the correct foundation for a good seat being applicable to any discipline, english or western) and jumping/eventing are focuses, as well. Owners Bob Chapeski and Olivia Chapeski teach and train from the facility.

The barn features 12x12 box stalls with 24 hour pasture turn out in groups, as well as dry lot pens averaging 24x70ft that include run-in sheds. All stalls, pastures and pens have automatic heated waterers. The facility includes a fully enclosed barn with heated tack rooms and bathroom, individual feed compartments, hot/cold water indoor wash rack with vacuum, large outdoor arena with full dressage court and jumps, a 70x140 ft indoor arena that is fully insulated and connected to the barn with a full side of mirrors and sound system, and ample parking. We hold clinics regularly through out the year.

_____________________________________________________________

Rates through December 2017:

•Two types of board are available: Horses who are long term boarders have the option of either a large dry lot pen or pasture turnout in groups of 4-6. Horses that are not in for training also have the perk of 3 lessons/training rides per month with Bob or Olivia included in the board price. Horses that are temporary, whether in for training or regular board, may only stay in dry lots so as not to constantly upset the herd status. Horses who come in for training qualify for a discounted board rate assuming that they are also paying training fees (minimum of 10 rides a month). Except for the rare situation of a horse in training being a long term boarder, all horses in training will be in dry lots. Horses who are long term and on pasture will come in briefly morning and evening each day into their own stalls for their grain and to be checked visually before going back out. Dry lot horses do not come into stalls. Both pasture horses and dry lot horses are fed twice daily, pens and stalls are cleaned twice daily, all pens and fields have large shelters with 3 sides, and all pens, stalls and fields have automatic heated waterers.

•Full-care Board : 510.00 per month (includes 3 lessons/training rides)

•Full-care Board for Horse in Training: 390.00 per month plus training fees

•Lessons with Bob : 45.00 (45 minutes)

•Lessons with Bob on school horse: 55.00

•Lessons with Olivia: 55.00 (45 minutes)

•Lessons with Olivia traveling to other barns (minimum of 2): 65.00

•Training rides/lessons package deal with Olivia (lessons on your own horse): 10 rides/lessons for 420.00, to be used within 6 months of purchase, 20 rides on horse in training for 735.00, to be used within 6 months of purchase.

•Training rides/lessons package deal with Bob: Inquire for rates at bchapeski@yahoo.com
•Clinic day fees: Inquire at bchapeski@yahoo.com or smalljoust@gmail.com
•Showing of client's horse by Bob or Olivia: Inquire within.








Photos of the barn. More coming soon!